On-Site Fiber / Small Cell Maintenance Services Case Study
Statement of Work: A provider of shared communications infrastructure contracted for 24/7/365 emergency restoration services in order to provide a 99.8% network reliability Service Level Agreement for their 10,000 small cell / DAS node network and customers in Southern California.
This ongoing maintenance service contract requires emergency dispatch to analyze, troubleshoot, and provide resolution to their fiber optic and/or DAS/Small Cell network throughout the market.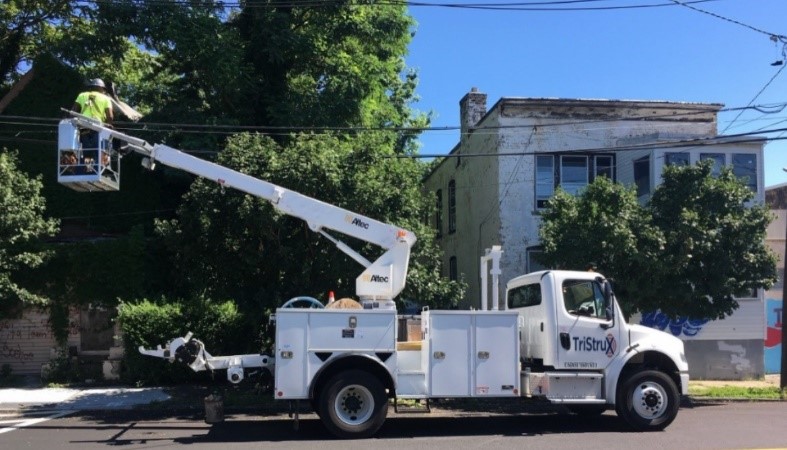 TriStruX Solution
TriStrux's highly skilled technicians are trained and possess current certifications in DAS/Small Cell installation, commissioning, and repair, along with fiber splicing and 24/7 fiber maintenance.  Our skilled team of experts remain on the forefront of technical innovations in a fast-paced, rapidly changing industry, and possess a deep understanding of industry requirements.
Utilizing fully equipped T40P Aerial Fiber Trucks and AT40G Insulated Bucket trucks along with state of the art of fiber splicing/testing equipment, our technicians provide a Best-In-Class offering to our customers adding a unique perspective to best meet the needs of the geographic markets. TriStrux defines a communication plan to measure and manage customer satisfaction metrics and testing including, single fusion, mass fusion splicing, and fiber characterization services, along with end-to-end network analysis. To ensure rapid deployment, Tristrux managers rotate on-call responsibility to ensure there is always a professional available to coordinate the response to an outage or repair call.
Last year, TriStruX performed hundreds of emergency call-out services in Southern California, from Santa Barbara to San Diego, helping our customer meet their SLA of 99.8% Network Reliability objectives.
(Click here for a pdf of this case study)